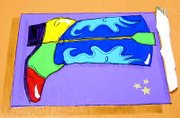 Every table at Cactus Juice Cafe in Sunnyside has a set of matching place mats.
What's so odd about that?
The place mats are works of art, painted onto the tables by Lori Alvarado, employee and daughter of owner Gladys Graham.
Graham prepared the 'palette' for Alvarado just before the Labor Day weekend, by sanding them and painting each a bright, but different, color.
""I went fishing, and when I came back Lori had them all painted," said Graham.
"That one," said Lori, pointing to a table decked out with speckled hens, "took me three and a half hours! Then I thought I'd better pick up the pace or I wouldn't be done in time."
Although the paintings on the other tables went a little more quickly, one pattern Alvarado just couldn't resist spun out a little longer.
"I had this material we'd used here in the cafe that had cowboy boots on it and I wanted to paint them," she said.
All of the painted place mats were inspired by something in Cactus Juice or the people who work or hang out there.
"This one with snowmen she did because I like snowmen," said Graham.
"And this one has the actual hand and footprints of her great-grandsons who practically grew up in the cafe," said Alvarado, who not only scrubbed up the tiny feet of Anthony, 1, and Alex, 3, before pressing them into her paint, but even let the children make their own brush strokes as highlights, which she shadowed to give dimension to the prints.
There is a flower-adorned table, which matches a flower plaque on the wall, one with the logo of the cafe and even one that features an oil-dipping set that is especially dear to Graham's heart. However, the place mat picture does not include the bread that Graham uses to dip into the oil in her real set.
Letting her creativity fly free at Cactus Juice is one way Alvarado puts to work her two plus years of advertising art education at Spokane Falls Community College.
Although she didn't pursue that career and is thoroughly enjoying working with her mother at Cactus Juice, Alvarado does paint decorations onto benches he dad, Terry Graham, builds as gifts for people.
"Nobody in this family has ever been afraid to try something new," Graham said of her energetic, over-a-weekend project.