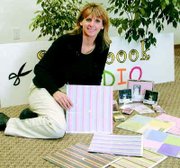 PROSSER - Angela's Floral and Gifts in Prosser will hold an open house next week, Nov. 14-19, to launch its new line of scrapbooking supplies.
The floral and gift store has gone so well, noted owner Angela Hancock, that she's decided to expand her location at 407 Wine Country Road.
"We'll offer evening scrapbook classes and work tables," noted Hancock. "The additional space will also give us a private consulting room to help plan floral arrangements for weddings and funerals."
Scrapbooking birthday parties for children will also be available.
The elbow room is right next door to the floral store, following the move by Lower Valley Credit Union to its new Prosser building.
Known as the Scrapbook Store, Hancock's new venture kicks off with the open house next week.
Hancock said there will be appetizers and hot apple cider served during the festivities along with daily prize drawings.
Business hours, including the open house, are 10 a.m. to 6 p.m. Monday through Friday and 10 a.m. to 4 p.m. Saturday and Sunday.
Hancock originally opened the floral and gift shop in April 2004 from her home before moving to the Wine Country Road location in August of that year.
She is no stranger to business, having worked in marketing for Denchel Ford for 10 years.
"I just decided it was time for a change," said Hancock, who praised her husband John's support during the transition.
That change was floral school before she opened Angela's Floral and Gifts.
"I felt there was a need for a scrapbooking store in Prosser," Hancock said of the new addition to her business.
For more information or schedules of scrapbooking classes contact the Scrapbook Store at 509-786-4443