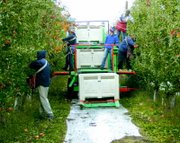 ZILLAH - A couple dozen fruit industry professionals and growers gathered at Carpenter Farms Monday to witness what the Argiles AF-5, a motorized picking platform imported from Spain, can do to increase efficiency among pickers.
Dana Faubion, tree fruit extension agent for Washington State University said, the platform is intended to replace the ladder and improve orchard efficiency.
"They feel safer on this than on the ladder," Faubion said of the pickers who've been testing the platform.
Ultimately, Faubion said, a ladder may not be needed to do anything involved in the harvest of fruit and the maintenance of the orchard.
"There's several reasons to look at mechanization of our workforce," he said.
Some of those reasons include improved output from trees, an increase in the number of workers available for a grower to hire to pick and less bruising of fruit.
Faubion said when a ladder is used to pick fruit a picker must be in good physical shape. He or she has to haul a ladder from spot to spot and carry a full bag of fruit down the ladder to place it in a bin.
With the platform, the fruit is taken directly off the tree and put into bins which ride on the platform with the pickers.
That means pickers don't need to be young and in great shape physically.
Improved production is another big reason to look at such a platform, Faubion said.
"We know that we can enhance production 20 to 30 percent," he said.
So far, the machine has only been tested on flat areas. In order to work in hilly areas, it must be stabilized, Faubion said.
The machine was imported by Blueline Manufacturing in Moxee, who will get the rights to produce a domestic version of the platform, according to Dave Alden of Blueline.
He said the production model available to growers in the Yakima Valley will cost between $40,000 and $50,000.
Alden said he traveled to Europe in order to get a better understanding of how the fruit industry there works.
He said he visited a large orchard in Spain in which workers hadn't seen a ladder in 20 years. Orchards there also have dozens of these platforms, he said.
He also said pickers work in different ways in Europe, placing fruit directly into bins.
"In Europe they don't even use the bag," he said.
The benefits have piqued the interest of members of the fruit industry.
Brad Newman, a field manager for Olympic Fruit Co., said his company has looked at picking platforms in the past and understand the potential gains.
"We've tried a few different models in the past and recognize the potential gain," Newman said.
What he likes most about this model, he said, is the lack of bruising on the fruit.
There's also the potential to increase work time by adding lights to the machine, allowing pickers to work in the morning and evening hours.
The machine can also be used for a variety of other tasks that need to be accomplished throughout the growing season. Thinning and pruning can also be done from the platform, Alden said.
With an air compressor built into the machine, pneumatic sheers can be used for pruning.
Faubion said more tests are needed to see how much the machine can actually improve efficiency.
Right now, pickers were averaging just over two hours per person per bin. That's improved from where they started just a few days ago.
"They've been improving every day," he said.