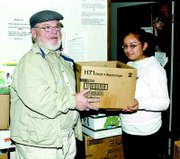 Reverend John H. Jacobs doesn't know where he got his calling to help people but it might have something do to with his mother.
When Jacobs was a young boy, around nine-years-old, he was living in Sheridan, Wyo. next to some railroad tracks. "This was back in the late 1930's towards the end of the depression," he said. "Every time I would come home from school my mom would always be handing out sandwiches to needy people."
This might be the reason why in 1976 he brought one of the local food banks to his church. Then, the food bank was located at the Calvary Lutheran Church but had to move. Jacobs heard about this and brought the food bank over to his church, the First Christian Church located on the corner of 8th and Decatur. He has been the director ever since.
The Sunnyside Ministerial Food Bank is open Mondays, Wednesdays, and Fridays from 8:30 to 11:30 a.m. The food bank serves the communities of Sunnyside and Outlook.
When asked about his stock of food supplies he said, "It's getting depleted. There is more demand every year."
The food bank receives most of its food from places like Northwest Harvest, Older American Nutrition and Second Harvest. Northwest Harvest and Second Harvest are food bank distributors that receive food from companies like Wal-Mart or other retail food stores. The distributors then distribute the food they receive to food banks in the area. Older American Nutrition is a government organization.
The food bank also receives donations from schools through food drives, local grocery stores, area churches and clubs such as the local Rotarians. The food bank will also be receiving cash donations from area churches at the annual Community Thanksgiving Service to be held at Sunnyside High School on Nov. 20.
Jacobs says the food bank gives out approximately 45 pounds of food to each family every week. A typical box of food from the bank includes cereal, bread, milk, peanut butter and canned and dry goods. They plan on giving out turkeys for Christmas and a few Christmas baskets might be given out too. The food bank served 2,500 family members in October.
In 29 years of being the director of the food bank, Jacobs remembered one story he said he will never forget.
It was during Christmas time. An area food bank had run out of Christmas baskets to give out so they called up Jacobs to see if he had any to spare. Jacobs fixed up a Christmas basket and even added a Christmas tree and went to the home of a family that hadn't receive anything yet. Jacobs remembered there was only a one candle burning in the house and the people inside wouldn't open up the door. "I think they were scared," he said.
When the family finally opened the door, Jacobs and the others found the family with three children. The men explained who they were and why they were there. "The father just sat down in a chair and started crying," Jacobs said. "He didn't think anyone cared about them."
It's times like these Jacobs enjoys. "It makes you feel like you've accomplished something in life," he said. "I've enjoyed working at the food bank."
Adventists also have food bank
There is also another food bank in town. The Sunnyside Seventh-Day Adventist Food Bank is located at 1875 E. Lincoln Ave. The food bank is open every Tuesday from 9-11:30 a.m