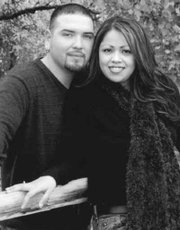 Tammy Burgueno and Robert Simmons, both of Sunnyside, are planning to be married in St. Joseph Catholic Church Dec. 3.
The bride-elect is the daughter of Raquel and Diego Burgueno of Sunnyside. Simmons' parents are Rocky and Laura Simmons of Sunnyside.
The newly engaged couple are both graduates of Sunnyside High School, she in 1999 and he in 2000. Simmons is in the Perry Technical Institute's electrical program, with graduation in June 2006. His fiancee is a 2005 graduate of Seattle University with a BA in social work.
More like this story