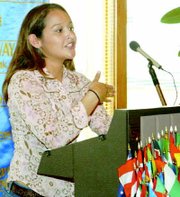 Page Ahead has been donating books to children's literacy programs since 1999.
"The program brings books into children's lives," Carla Mancinas, a community partnership coordinator for Page Ahead, said.
The books are usually distributed through an event or celebration. This way the kids bring home their books with some remaining excitement from the events.
Page Ahead receives a lot of their books through book drives organized by corporations and community organizations. Schools also have drives to donate books to the program. "We received more books at the Sunnyside High School Home Coming than all of last year," Mancinas said.
February is National Fitness Month, and Page Ahead will be holding drives in fitness centers to raise books. The drive will be called 'fit to read.' 'Banking for books' is another drive to be held at banks and credit unions in the area.
People can also donate money and time. "$50 will buy ten books," she said. Page Ahead only takes new books. "It's more special for the kids' first book to be new," Mancinas said. Used books are still sought after, but they go to the Washington Reading Corps.
By having the book drives, the program hopes to create lasting community support. It seems to be working. Last year Page Ahead held a big celebration in Union Gap. The reason - Page Ahead had given out its one hundred thousandth book in the Lower Valley.
"People can help by donating a book, donating money or volunteering," Mancinas told the Sunnyside Noon Rotary Club on Monday. "We need lots of volunteers."
Volunteers can help by hosting a book drive at their job or organization or by volunteering to read to a group of children.