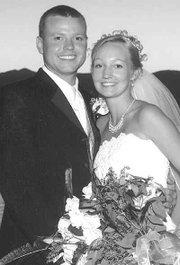 Lindsay Marie Pittman and Craig Michael Timmermans were married in an Aug. 13 ceremony at North Shore Bible Church in Lake Chelan.
Parents of the groom are Bill and Linda Timmermans of Sunnyside. The bride's parents are Rick and Kathy Pittman of Manson.
White roses and lilies set off with peacock feathers were a bold accent to the ceremony. The peacock theme was carried into the reception, held in Campbell's ballroom. Hundreds of peacock feathers filled the room as elegant centerpieces. Granny Smith apples with golden ribbons and thank-you cards were the favors for more than 200 guests.
The newlyweds had their first dance to "Let's Stay Together," by Al Green. Father and bride danced to "At Last."
The bride's maid of honor was Meagan Alwert of Portland, Ore. Best man was Chase Porter of Prosser. Bridesmaids were Shannon Pittman of Manson, the bride's sister; Emily Brulotte; and Kristyn Pittman, cousin of the bride. Groomsmen were brother of the groom, Dave Timmermans; Shane Collins of Chelan; and Ryan Pittman, brother of the bride.
Both bride and groom graduated from Washington State University. She is an advertising account executive with Prairie Media. Timmermans performs line clearance for a tree trimming company.
The couple went on a 12-day honeymoon to Costa Rica. They reside in Lake Wenatchee.