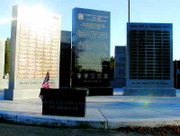 From Sunnyside to Grandview, the Lower Valley will be remembering its heroes tomorrow, Nov. 11, during Veteran's Day.
The Sunnyside VFW will hold an observance at 11 a.m. on Nov. 11. That's in keeping with the World War I armistice day tradition of remembering veterans on the 11th hour of the 11th day of the 11th month.
The Sunnyside service will take place at the new War Veterans Memorial located at Lower Valley Memorial Gardens Cemetery north of town. Those attending the ceremony are encouraged to wear warm clothing and bring a lawn chair.
The 11 a.m. service will be a re-dedicating of the memorial now that two additional granite walls have been installed and to honor those veterans who are presently serving in Iraq and Afghanistan.
Following the service, the VFW Ladies Auxiliary will provide lunch at the VFW Post, located at 615 North Avenue.
Grandview's VFW Post at 132 Division will host a gathering starting sometime between 5 to 6 p.m. on Friday, Nov. 11.
The ceremonies include the singing of the national anthem, a 21-gun salute at 6 p.m. and a potluck meal. A highlight will be the unveiling of a new flag mural on the VFW Post's exterior. The ceremony will close with the distribution of achievement certificates.
Other opportunities to honor veterans include memorial markers.
Granger has the Sandra Kay Mortensen veteran's memorial near the town's gazebo, while Sunnyside has the War Veterans Memorial at Lower Valley Memorial Gardens and the Jerry Taylor Memorial at Ninth and Edison.
Wherever, or however, you choose to commemorate Veteran's Day, the Lower Valley provides plenty of opportunities to remember the fallen.
At the same time, remember to thank the living veterans all around us for their service to our country.