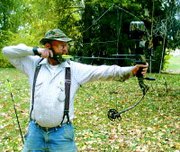 Long-time Sunnyside resident George Graf knows a thing or two or three about hunting.
He figures he's been hunting for about 50 years. "It's an excuse to get out and enjoy nature," he said. "For me it's not just about the kill, but the adventure of being outdoors."
Now preparing for archery season, which begins the middle of this month, Graf shared his life-long memories and lessons from hunting.
Graf, 62, has hunted everything from bear to rabbit. One of his fondest hunting memories came in 1968 while pursuing elk in the Mount St. Helens area.
"I can still remember this bull elk standing right there," Graf recalled. "Steam was coming out of his nostrils and I got a shot at him then tracked him."
He added, "The memory to me isn't the dead animal but the experience of getting to that point in the hunt."
Graf is partial to bow-hunting because it requires the hunter to get closer to the prey than a rifle or shotgun.
As far as lessons learned, Graf encourages other hunters to not just kill for a trophy, but to respect the animal and not waste it. He figures one elk, for example, can feed his family for about a year.
And don't focus on the kill, he noted. "When I first started I was all excited about the kill," said Graf. "Now I'm kind of disappointed if get a kill the first time out because that means I can't go hunting again that season."
He said the cool chill of early winter is his favorite time of the year. "There's something almost primal about it," he reflected. "That feel of the first chill and feeling the need to fill the freezer for the family."
But when the season is done, Graf says he's content to put his bow and rifle away for another year, "Just about the time hunting season is over is about the time we need to start pruning back our grapes."