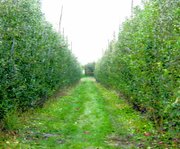 Most people think Valley farmers sit back, kick their feet up and relax when winter rolls around, but local growers say that simply isn't true.
Paul Champoux, owner and manager of Champoux Vineyards in Prosser, said there's a lot that needs to be done before farmers can actually knock off for a few weeks in the winter.
In November, Champoux said he waters up his vine's roots well in order to prevent a loss of moisture in the vines when the soil freezes.
Another big job he said he does is winterizing his irrigation system, and on his 175 acres of land, that's a big job.
Champoux said warm fall temperatures help the vines to winterize themselves. He said the longer a vine stays active, the better protected it will be in the winter.
He also said varieties of grapes can have a big variation in how resistant they are to the cold. Some are better than others.
Warm winter temperatures also help Champoux with his vine maintenance.
"If it's an easy winter you might be doing trellace repair," he said. "There's always something to do in the vineyard."
Once snow finally falls, he said he and his workers move inside to work on equipment.
He said many grape growers will actually take a couple weeks off in the early winter. From Thanksgiving to New Years, Champoux said most people take off to visit family.
Like grapes, hop farmers need to prepare their crops too.
Willard Mears, executive manager of Segal Ranch near Grandview who grows hops, said he does a lot of things that are very similar to grape preparation.
"Of course we have 11 months until the next harvest," Mears said. But that just means he and his workers have to get their crop ready to grow.
"There isn't a real downtime," Mears said.
Apples, pears and cherry work isn't much different, according to Mike Kendrick, owner of Highline Orchard in Wapato.
"A lot of people think once we're through picking we're done," he said.
That's not true, though. Much like Champoux, Kendrick said his orchard needs to be winterized. And like Champoux, he first has to winterize his irrigation system.
Pest control is another issue that needs to be addressed.
Kendrick said mice and gophers pose a big problem in his orchard, and that's why so much attention is paid to eliminating them.
Fertilizer and weed killer are put on the orchard as well, Kendrick said.
Champoux said he doesn't begin to prune his vines until February, but Kendrick doesn't have that luxury. Kendrick said pruning goes on all winter long, just as long as the temperature stays about 20 degrees Fahrenheit. Pruning below that temperature can cause damage to the tree, he said.
In addition, there are meetings and luncheons, Kendrick said. Pesticide companies try their hardest to get growers to use their product.
He said there's always someone claiming they've got the newest and greatest thing to eliminate pests in the grower's orchard, though it never seems to work out that way.
Growers will even go to packing plants to see how things are going, Kendrick said.
Kendrick said his workers may even need to be recertified in CPR. He said that at least one person needs to be on the job site that's certified in CPR at any given time.
Despite the thought that farmers don't do much during the winter, both Champoux and Kendrick said they wanted to dispel the rumor that they aren't busy and put their feet up for the winter.
"I wish we could," Champoux said.