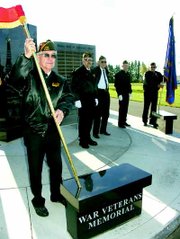 The Sunnyside School District is in the running to receive a state incentive grant to help combat higher than average alcohol use among 8th grade students.
A Washington State Healthy Youth survey done in 2004 showed almost 29 percent of 8th grade students in Sunnyside had consumed alcohol in the last 30 days compared with the state average of 18 percent. The 29 percent number has a plus or minus of 5 percent.
"If we get the grant, it will be for $130,000 a year for five years," John Hughes said at Thursday's Sunnyside Promise meeting. "We'll know by December 9th if we've been selected."
If the Sunnyside School District received the grant, the district would work with Sunnyside's Promise to come up with a strategy to reduce alcohol use among students.
Also at Thursday's Sunnyside Promise meeting, two students from Sunnyside High School stopped by. Levi Wiersma and Savanna Navarro spoke to Promise members about the coming Farm Implement Parade.
Wiersma and Navarro explained their plans for the float they will be building for the parade with the help of Sunnyside's Promise. Although the design of the float is top-secret, the students did ask for help from the community in building their float.
According to Wiersma and Navarro, they need paint: red, black, green or white, lights: the same colors as the paint, three sheets of plywood, 1/2" X 4' X 8', the use of a generator, reindeer costumes with antlers and straw bales.
The parade will be on December 3rd.
Also, three students from Sunnyside High School along with a school official, the Sunnyside Police Chief and a Sunnyside Promise member will be going to Washington D.C. in February for the Community Anit-Drug Coalitions of America conference.
Lacey Yanez, Capri Miles and Luke Spillis hope to raise enough money to attend. All three students are members of Leaders in Action, a program sponsored by Sunnyside's Promise.
The conference will train the students to develop leadership skills and to ask questions. They will meet with other kids who are trying to change the "use factor" among kids.
.