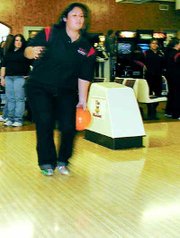 Sunnyside Coach Tina Peabody was pleased with her team's performance, despite the loss.
The Sunnyside bowlers lost all four games to the Pirates of Davis 709-664, 645-623, 194-120 and 146-134.
"I think things went well," Peabody said.
Junior Vernoica Uribe bowled well for the Grizzlies with a high score of 172 in the second of the two team total games.
Peabody said Uribe doesn't get overly emotional and that helps her to stay focused.
She said that a couple of her players have a tendency to get upset when they don't pick up a strike or a spare.
Senior Tiara Moon returned to the team after two years away form bowling, Peabody said, and didn't bowl her typical game.
"Absence from bowling and trying something new didn't pay off for her," Peabody said.
She said she didn't stick to her normal game and routine, and that hurt her scores.
Senior Katie Weets bowled two solid games for the Grizzlies with a 147 and a 128.
Davis senior Katie Balam lead the Pirates with a 172 in the first game, followed by a 178 in the second.
Despite all the things that didn't go the way Peabody hoped, she reiterated that she was happy with the way things turned out.
"For a first match, I'm pretty happy," she said.
Sunnyside will play at Pasco next Tuesday.