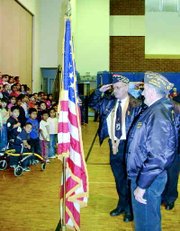 MABTON - Lower Valley veterans were front and center Thursday during two ceremonies in the Mabton School District.
The first took place at 11:12 a.m. at the high school where students provided a photo display of area veterans.
At 1 p.m., Artz-Fox Elementary School students packed the gym to witness a color guard of local veterans, including Mabton native Joe Saenz home from Iraq.
Mabton kindergartners led the audience in the Pledge of Allegiance and first graders sang a stirring rendition of the national anthem.
Other musical performances included the sixth graders singing "Lean on Me" and third graders singing "America the Beautiful."
The ceremony featured two special award presentations by students. One was to long-time veteran and school volunteer Elmer Schultz and the other was to Saenz.
"This is just a great tradition," said Mabton VFW post commander Lyle Bergstrom. "It's an honor to be here."