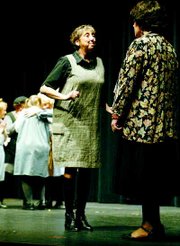 The Over the Hill Senior Theatricals put on a production of 'Annie' last Saturday and Sunday at the Sunnyside High School auditorium.
The group was formed in 1989 and this is its 13th show. Membership in the group is limited to those 45 and older.
According to the group's history, its intention is to provide entertainment and to encourage participation for senior citizens, and to present a show that will entertain and amuse the audience.
That they did as the group acted out 'Annie.' The play is about an orphan girl hoping to find her parents. Along the way she meets a very wealthy man who wants to adopt her but has to tend with a jealous orphanage director and her brother.
Most of the actors in the group come from other theatrical groups in the area.
"Our dances are a little slower and a little easier but we do it to have a lot of fun," Lynn Hewitt, co-producer of Annie, said. "We always say, if no one else likes the show, at least we do."
Hewitt said the group picked 'Annie' because they thought it would be fun to do and no one else was doing it.
The show's musical tunes are great as everyone in the play has a great singing voice.
June Sanderson does a good job playing the evil orphanage director, Miss Hannigan, and Sheila Hazzard is believable as the dirty, little orphan Annie.
The play will again be staged Nov. 18 and 19 at 7 p.m. and Nov. 20 at 2 p.m.
.