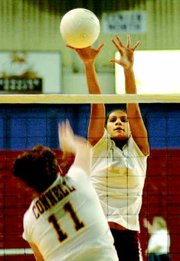 YAKIMA - With just one senior on this year's State tournament fifth place finishing team, one has to wonder what the future holds for the Grandview High School volleyball program.
The Lady Greyhounds, this past Saturday, capped off a remarkable season with a fifth place finish at the 2A State tourney, staged at the Yakima SunDome. Grandview posted a 3-1 record at State, upping its season mark to 29-6, the third best single season record in school history.
In Saturday afternoon's trophy round at State, Grandview throttled the highly regarded Lynden Christian Lyncs in three straight games-25-19, 25-9, 25-19. "It was nice to finish fifth at the State tournament, but it was even better to play well and crunch an excellent opponent like Lynden Christian," said Grandview Coach John LaFever.
The Lady 'Hounds could have easily collapsed after dropping their opening match at State to Mount Baker. The three games to two defeat most likely would have taken the wind out of the sails of most teams, but not Grandview.
Instead, the Lady 'Hounds regrouped and swept three straight matches to earn the fifth place trophy.
In assessing his club's play last Friday against Mount Baker, LaFever chalked up the defeat to State tournament jitters.
"We were very nervous and played a little out of sorts," he said, noting that his team dropped the opening game 27-25 but rebounded for 25-23, 25-13 victories in games two and three. Mount Baker rallied with a 25-21 victory to force a rubber game, which Grandview dropped by a 15-9 score.
LaFever said the loss simply forced his team to refocus.
And refocus, the Lady 'Hounds did. Grandview charged back into contention for a State tournament trophy by whipping Hoquiam (25-9, 25-16, 25-10). That victory set up a Saturday morning showdown with Connell, with the winner advancing to the trophy round. Bent on bringing home hardware from State, Grandview made short work of the Eagles, winning by 25-13, 25-19, 25-15 scores.
In its match to decide the fifth and eighth place finishing teams at State, Grandview jumped out to a hard fought 25-19 win over Lynden Christian. The Lyncs, perhaps a bit dismayed, fell apart in game two, losing by a 25-9 count to Grandview. Lynden Christian attempted to make a match of it in game three, but the momentum the Lady 'Hounds had already established carried them to a 25-19 match deciding victory.
As tasty as the fifth place finish was for all the Grandview girls, it had to be the sweetest for the lone senior on the club-Tonhya Wysong. She closed out her prep career with some pretty impressive numbers, piling up a team best 156 passes at the State tourney.
The team's playmaker, setter Chante Bottineau, also recorded some nifty numbers at State. Bottineau pin-pointed set after set throughout the four postseason matches, collecting a total of 124 assists. If that weren't enough, the junior also was credited with 27 perfect passes, 15 service points and seven kills.
The service line leaders for Grandview at State were numerous, but two of the players especially stood out-sophomores Jessica Gonzalez and Katie Veloz. Gonzalez ripped 28 shots from the service line for points, which included eight unreturnable shots. Veloz had a club high nine aces and tallied 26 service points in the four State matches.
A host of other Lady 'Hounds also filled the stat sheets at State, perhaps none more so than sophomore Kealey Johnston. At the net, Johnston soared for 29 kills and four blocks. She also totaled 23 service points, two for aces, in the four matches, and had a club second best 136 passes.
Sparkling just as brightly was freshman Kinzi Poteet. The 5'11" middle hitter was a dynamo at the net, crunching a team best 44 kills. Poteet also had a team high seven blocks at State. In addition, she was credited with 10 service points, one of which was good for an ace.
The numbers don't stop there. Consider: sophomore Raissa Licano's 37 kills, three blocks and 13 passes; sophomore Christine Penwell's 27 kills, four blocks, nine passes and six assists; junior Danika Martinez's 28 service points, three aces, 45 passes and two assists; and freshman Sydney Mottice's 16 kills, three blocks and 43 passes.
.