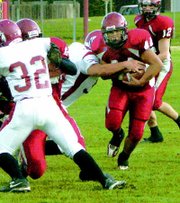 GRANDVIEW - Call it the quarter-finals or the elite eight, but Grandview's football team is there thanks to a 32-22 come-from-behind home win over Colville Saturday in the State 2A playoffs.
The 'Hounds relied on their defense to make it two playoff wins in a row, with quarterback Brandon Artz doing the damage on defense by returning two interceptions for touchdowns in the third quarter.
That transformed a 15-12 halftime deficit into a 25-15 lead midway through the third.
"That was as good as we've ever felt down three points," Coach Dustin Lamb said of Colville's short-lived halftime lead. "Colville looked like they were getting tired near the end of the half."
Grandview not only was feeling confident on the field, but also made some strategy changes to get the upper hand.
"We changed our pass defense coverage quite a bit," Lamb said of the Greyhounds' halftime strategy. "Assistant coaches Matt McKinstry and Travis Elliott noticed some tendencies by the Colville players and we made adjustments," Lamb continued. "The guys came out in the second half and just stole the show."
Make that intercepted the show, as Artz intercepted a Colville pass on the first drive of the second half and returned it 55 yards for a touchdown.
Colville's next possession saw the same result, with Artz intercepting an errant pass and returning it 35 yards for the score to make it a 25-15 game.
"That was pretty exciting," Lamb said of Artz's game-changing interception returns. "I don't think I've ever seen anything like that before."
Most importantly, it put Grandview in control for the first time all day.
Colville stayed in the hunt, though, forcing a Grandview fumble and converting it into a score to pull within three, down 25-22.
That remained the score until Grandview iced the game with a touchdown in the final two minutes.
The game-clinching score came on a six-minute, 70-yard drive, typical of the Greyhounds' spread-the-wealth spread offense. The drive culminated with a James Vela touchdown catch.
Besides Artz's two scores on interception returns-his second and third picks of the game-the senior quarterback had his usual day at the office. He made good on 17-of-25 pass attempts for 188 yards with a rushing and passing touchdown to make his total four for the day.
On the day, Grandview's defense hounded Colville for four interceptions and a fumble recovery. They limited three other threatening drives to field goals.
The guests only touchdowns came on the fumble recovery noted earlier and an 80-yard kick-off return in the first quarter to tie the game at 6-6.
Taking a cue from Grandview's volleyball and basketball success, Lamb said his team wants to maintain that same winning tradition on the football field.
To do so, though, they'll have to beat CWAC South foe Connell this Saturday in the Tri-Cities.
"We've talked all season about overcoming adversity," Lamb said as he readied his team to take on the Eagles, who beat Grandview 38-14 earlier this year on the way to the regular season league championship.
"The guys are pretty hungry and they want to keep the train going," Lamb said of Grandview, which improved its season record to 7-4 with the playoff win over Colville.
One advantage this time for Grandview's fleet feet will be the opportunity to play at a neutral site and on astro-turf on Pasco's Edgar Brown Field.
"Connell's a lot bigger than us, so hopefully we can use our team speed to counter that," Lamb noted.
Saturday's game time was still not determined as of press time as state officials are trying to arrange a playoff doubleheader in Pasco.
In addition to the Grandview/Connell tilt, there is the possibility that Bellevue and Prosser will lock horns in the 3A playoffs before or after the 'Hounds and Eagles kick-off.
Statistics:
Passing:
Grandview - Artz 17-25-188, one interception, one touchdown.
Rushing:
Grandview - Camacho 14-80, Vela 3-13, Artz 6-3, one touchdown.
Receiving:
Grandview - Vela 6-105, one touchdown, Chester 1-4, Camacho 2-8, K. Concienne 5-61, M. Concienee 2-1, Medina 2-10.
.