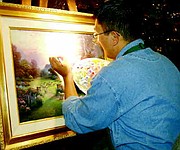 Customers were wall-to-wall at The Knot Hole Gallery in Sunnyside this past Saturday as collectors of Thomas Kinkade art flocked to watch one of his master highlighters at work.
Ron Palor flew in from Kinkade's headquarters at Morgan Hill, Calif. for the day to add glowing highlights of fresh paint to paintings already purchased from the gallery and also to paintings that were bought Saturday.
Palor has been associated with Kinkade since 1991.
"I was with him before anybody knew his name," said Palor, explaining that, while Kinkade's art was sought after even then, it was sold under the name of LightPost Publishing, rather than under his name.
"Tom was looking for artists to do the highlighting on his paintings because he just didn't have time to keep up with the demand," said Palor.
Palor travels the country about twice a month to visit galleries who are willing to pay for the services of a Kinkade master highlighter to enhance the paintings of their customers.
"We add the same oils that Tom uses," said Palor, "but the master highlighters can personalize a painting for a collector, by adding fresh paint (to a painting that's been digitally transferred to canvas) that makes it something their own."
Saturday, some customers requested highlights to be placed in certain areas of their paintings, others relied on the suggestions Palor gave them.
"I enjoy highlighting," Palor said, as he dabbed paint onto clouds in the last painting of the day.
"And I enjoy talking with Tom's collectors. I get to meet folks around the country and we do share that admiration for Tom, and I get to share my stories of Tom with them," Palor said.
The highlights done Saturday on previously purchased pieces were a holiday gift to their customers from gallery owners Ellen and Lloyd Phinney. A fee was charged for newly purchased works.
&nbsp