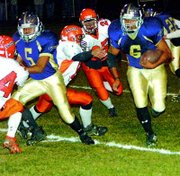 MABTON - Asotin's Ryan Witters punched in a late 1-yard touchdown run with seven seconds to go to steal a victory from the previously undefeated and eighth-ranked Vikings, 17-10 this past Friday night.
The loss ends Mabton's state 'B' playoff run.
The Vikings (10-1) managed to run all over the Asotin defense between the 20s, but were unable to score once they reached the red zone, Mabton Coach D.J. Search said.
"We drove the ball fine until we got into the red zone," he said. "Then Asotin's defense just buckled down."
Senior Pablo Sanchez led the rushing attack for Mabton, racking up 94 yards on 19 carries. Sanchez also put the Vikings on the scoreboard in the first quarter, connecting on a 21-yard field goal attempt.
Sophomore Eli Perez added 89 yards on 25 rushing attempts, and Ray Elizondo put up the first Viking touchdown on a 10-yard run.
Mabton missed the presence of senior quarterback and free safety Alex Zavala, who suffered a season-ending injury late in the regular season.
Search said freshman Sal Lopez filled in for the Vikings at quarterback in their run-heavy offense and performed as well as could be expected.
"He did the best he could," Search said.
Lopez connected on two of his eight passing attempts for 31 yards.
But in the end, Mabton's luck ran out. Late in the fourth quarter Mabton pulled a halfback pass from the back of their playbook. Sanchez appeared to find Lupe Campos for a 25-yard score, Search said, but the referees ruled that the ball came loose at the Asotin one and was recovered by the Panthers.
Despite an interception by the Mabton defense on the next Asotin series, the Vikings couldn't manage to get the ball into the endzone again.
The Vikings were also stopped twice on fourth down conversion attempts in the game, Search said.
Despite the loss, Search said he's proud of all his team accomplished.
"If you watch our opponents compared to us we're the smallest," Search said.
Search said his seniors have come a long way in their time in school.
"The kids know that we care," Search said of he and his coaching staff.
Asotin (8-2) moves on to play Rearden (8-1), which beat another Central Washington B League school, Kittitas, on Friday as well.
.