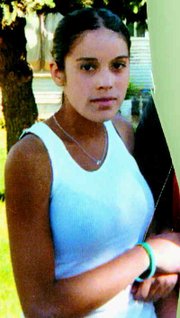 A 13-year-old Sunnyside girl has been missing since Wednesday, Nov. 2.
Yesesina Verduzco left her home that morning, walking on her way to Harrison Middle School.
"She did not go to school on that Wednesday. The last time I saw her was on the 2nd of November, on the morning before she went to school," said her mother, Rita Escobar, speaking in Spanish.
Escobar said she believes Yesesina and a girl friend, a 15-year-old Sunnyside High School student who is also missing, went willingly with a man.
"They both have been calling from a cell phone of a guy friend," said Escobar, through an interpreter. "I think at first Yesesina went willingly, but now I think they are holding her unwillingly."
The family has heard her voice since Yesesina dropped out of sight.
When she made one of those cell phone calls it was to a friend in Mabton, who alerted her mother and father, Manual Verduzco.
Because the cell phone number registered on the Mabton friend's phone, a friend of the family called the number.
"A man told us he just let the girls use the phone and they wanted a ride to Seattle but he refused them," said Escobar. "We didn't believe him."
When they tried the number a second time, "Yesesina answered, but he took the phone from her and, when we asked to speak with her, he hung up," said Escobar.
Escobar and Verduzco have also contacted the father of the missing 15-year-old, but, according to Escobar, he said he knew nothing about where his daughter is.
Although Yesesina left home on Oct. 15 without notice and was returned by the police the next day, her mother said she thinks this disappearance is out of character.
"She's not the kind to leave home and never come back. She'll go with friends, but will come back," declared Escobar.
The family has had reports that their daughter has been seen in stores in Yakima, at the Wal-Mart in Sunnyside Nov. 10 or 11 and in other stores in Grandview and Prosser.
With each new report, her father has taken one of only two small snapshots the family has of Yesesina and driven to the towns to look for her and show the picture at various businesses.
This morning, he was on the road again, looking in Prosser for his daughter.
If anyone has seen Yesesina Verduzco or has information about where she is, please call her father at 509-305-0507.
"I'm worried. I'm thinking the worst," said her mother. "She's only 13; I don't want anything bad to happen to her."
Verduzco said they notified the Sunnyside Police Department Nov. 3, the day after she failed to return home from school.
"An officer came to our house, and my wife went to the police station, but we have heard nothing from the police since then," said Verduzco.
Verduzco said the family had also contacted the Yakima County Sheriff's Office, but was told, if the Sunnyside Police had been notified, the sheriff's office would already be alerted about the girl's disappearance.
Calls by the Daily Sun News to both the Sunnyside Police Department and the Yakima County Sheriff's Office have not resulted in any information about the missing girl.