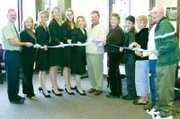 PROSSER - Lower Valley Credit Union will be opening a branch in Prosser tomorrow.
The credit union has been headquartered in Sunnyside since 1986 and has been operating a satellite loan office in Prosser since February of 2000.
"Approximately 20 to 22 percent of our members live in the Prosser/Benton City area," Dave Ballinger, manager for Lower Valley Credit Union, said. "The satellite office didn't offer any other services besides loans, now we are giving them full service."
The credit union bought the property last January and Bestebreur Bros. Const. Inc. broke ground on the new building May 17 of this year.
Four full-time and one part-time employee will work at the new branch.
"Prosser has been a very good, loyal area," Ballinger said. "The expansion down there will help us up here by giving us more room to operate and grow here in Sunnyside."
The new branch will offer the same services as the Sunnyside office. Those services include savings accounts, IRA's, money orders, traveler's checks and certificate of deposits. The new branch will also offer most consumer type loans.