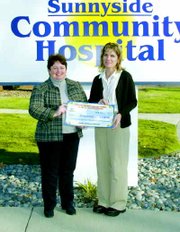 Soroptomist, a professional women's organization, recently donated almost $5,000 to Sunnyside Community Hospital.
The money will be used to administer mammograms to women who can't afford to pay for the service themselves, Diagnostic Imaging Manager Coleen Goulet said.
The money was given to Soroptomist through a grant from Legends Casino and then given to the hospital by the group.
In all, Goulet said the hospital spends about $7,000 a year to provide mammograms to people who can't afford them.
Soroptomist member Sue Newhouse said the additional money for the service comes from fund-raising at the Indian John Hill rest stop on Interstate 90 between Ellensburg and Cle Elum.
"We probably have double the amount of people we serve since we started the program," Goulet said.
Mammograms are important in catching breast cancer early, Goulet said.
"A lot of these women would not come in if we didn't have this program," she said.
In addition to the money given to the hospital, Soroptomist gives money to a variety of different causes that benefit women and children.
Newhouse said the group has given money to the Lower Valley Crisis Center also.
"It's nice that we can keep it in the Lower Valley," she said.
Newhouse said she wants to continue to expand the mammography program.
"There's still a lot of people out there that don't know it exists," Newhouse said.
For more information on the program, or if you want to contribute to the fund, you can contact Goulet at the hospital at 837-1502.
More like this story