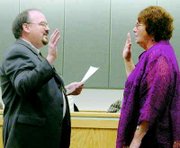 The first matter of business for the Sunnyside city council on Monday was approving Mayor Ed Prilucik's appointment of Carol Stone to the council.
Stone defeated incumbent Bruce Ricks in the Nov. 8 general election. After it was clear Stone had defeated the incumbent, Ricks resigned to allow Stone the opportunity to serve on council now through the 2006 budgeting process.
After being sworn in by City Attorney Mark Kunkler, Stone thanked the voters and her family members for their support.
"I only hope I can live up to your expectations," she tearfully told the audience.