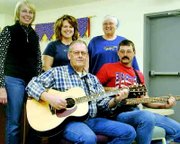 MABTON - "We don't ask for vocal talent, we ask for an audience that doesn't know the difference!" chuckled Mike McGhan, bass guitarist for local country Christian music group The Joyful Noise.
The seven-member band hails from Lower Valley locales such as Prosser and Grandview, but are united by their membership in Mabton's Grace Brethren Church and a love for classic hymns.
In an age where many churches have turned to newer and shorter praise songs, The Joyful Noise has found a niche audience for country renderings of hymns such as "Power in the Blood" and "What a Friend we have in Jesus."
Founded eight years ago, the faces on The Joyful Noise have changed over time, but not the love of music and fellowship.
"It's family, we have a good time together," vocalist Rita McGhan said with a smile.
But what about the times when "I saw the light" is requested for the 100th time?
Don't the old hymns seem, well, old when they've been played so many times?
"All you have to do is look at the audience reaction when we play those songs," said vocalist Kathy McGhan. "We play the songs different every time anyway so they might just as well be new songs," laughed Rita.
The good-natured fun that group members have is real, and so is their down-to-earth humility.
They're not doing Christmas performances, noted Kathy, because the guys can't read the more elaborate music of songs associated with the season.
Group members chose the name, The Joyful Noise, based on a Bible verse and as a pun.
"We weren't very good," explained vocalist Kathy Sharpe. "It was either that name or Glad Racket," Mike McGhan added with a laugh.
Whether it's a joyful noise or glad racket, The Joyful Noise has a sustained following. They have performed at venues ranging from the Prosser Balloon Rally to the Central Washington State Fair.
But they perform primarily at church gatherings and make time to sing at nursing homes and assisted living facilities.
Likely their last performance this year will come Sunday, Nov. 20, for a Christian music jamboree to be held from 2 to 4 p.m. at the Grace Brethren Church in Mabton.
"It's probably one of the best kept secrets around," Kathy McGhan said of the jamboree, which has drawn more than 100 people to the Mabton church from as far away as Yakima and the Tri-Cities.