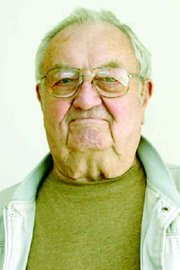 Sixty-five years ago, President Franklin Delano Roosevelt reached into a fish bowl and pulled out the first name in the United States' first draft call-up.
On that Nov. 18th, William Amsden, now of Sunnyside, became a winner.
Amsden's wasn't the name that Roosevelt drew from his fish bowl, but it was pulled out by an official in Powell County, Montana, which was following counties all across the United States who were reacting to the Selective Service Act passed by Congress in 1940.
"Powell County had a quota of one on the first draft, and that's the only drawing I've ever won," claimed Amsden.
The entire state of Montana had only 40 names to draw in that first call-up.
"I don't think they ever expected to go to war," Amsden said this week. "But we were sent from Montana to Fort Lewis for basic training. We finally wound up in Fort Ord, Calif. with the Horse Artillery.
"That's right," Amsden said, laughing, "They still had three batallions of horse-drawn field artillery at the beginning of 1942. They were using them as training instruments."
"In 1942, June 6 I think it was, the Japanese bombed Dutch Harbor on the Alaskan Peninsula," said Amsden. "The stable crew and horses went to Utah, and we went to the Aleutians."
Amsden's unit ended up at Fort Glen on Umnak Island where he exchanged the horses for a caterpillar.
"The U.S. had shipped in an Air Force unit and air strip construction crew addressed to a cannery, so the Japanese never knew we were there," Amsden said.
But, after the bombing of Dutch Harbor, the Japanese invaded Attu and Kiska, which, like Umnak, are part of the Aleutian Island chain that is formed from volcanic action. The Japanese began construction of landing strips there, that would have put them within striking distance of the U.S.
Amsden said he volunteered for the invasions of Attu and Kiska, and thought he had a good chance of being chosen because the volcanic makeup of the islands bogged down any vehicle other than tracked vehicles.
"And I was a Cat driver, so I thought I'd go, but I was told I was essential where I was," he recalled.
He remained on Umnak while the bloodiest battle of the entire war was fought on Attu. When the U.S. forces regained Attu, they turned their attention to Kiska, only to find the Japanese had deserted it.
"I never saw an enemy during the war," said Amsden, who was sent back to the states, to Arkansas, for R&R in December 1944.
"I was staying at the Arlington Hotel in Hot Springs, Arkansas when a President's Ball was held in January to celebrate FDR's birthday. I met my wife at that ball and we were married a year later in January 1946," he said.
And, if it hadn't been for FDR's fish bowl-and those throughout the U.S. in 1940-Amsden and his wife, Helen, might not be celebrating a 60th wedding anniversary in the new year.