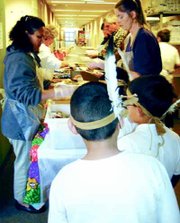 OUTLOOK - Thanksgiving came a week early at Outlook Elementary School yesterday.
Working from the recommended school district menu, Outlook cooks had no control over what date on which their Thanksgiving dinner for 800 would fall. The menu said Nov. 16 was turkey day, so turkey it was-and with all the trimmings.
"We've been doing this for 20 years. For some students, it's the only Thanksgiving celebration they'll have," said Principal Cathy Mears. "Our theme is the message of Thanksgiving and talking about the things we have to be thankful for and not complaining about what we don't have."
Some of the students, taking a cue from the first Thanksgiving in America which they had learned about in class, dressed in costumes they made themselves.
The students were served in three shifts with guests joining in as they arrived. In addition to the 695 students, their teachers and staff members, guests from the school board and central office staff sat down to the holiday meal and offered silent thanks, each in their own way.
. Frances Potts can be contacted at (509) 837-4500, or e-mail FPotts@eaglenewspapers.com
Frances Potts/Daily Sun News
Feather-bedecked young men line up at a serving table to receive their Thanksgiving portions.
Frances Potts/Daily Sun News
Second grade teacher Michelle Schlenker, at left, said she had fun making a pilgrim hat along with her students, Veronica Gonzalez and Aurora Camboras, far right.