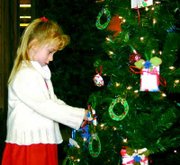 Janessa Franks is only five years old, but she already knows her favorite part of the Festival of Trees.
"Putting the ornaments on," she said.
Franks is one of 66 students from United Methodist Pre-school who make ornaments to decorate a tree for the Festival of Trees at the Sunnyside Mini-Mall.
The decorations aren't elaborate or expensive, Tony Castillo, pre-school teacher, said.
Castillo said a lot of the ornaments come from recycled things like pieces of carpet that were wrapped to create present ornaments. Christmas cards were also cut up and put on can lids to create different ornaments.
The students spend a week working on the ornaments, he said. They'll create two ornaments; one to keep for themselves and the other to give to the tree decoration effort.
Once the festival is over, the tree will go to the Sunnyside Senior Center.
"They get to keep all the ornaments once Christmas is over," Castillo said of the center. "I think the seniors really enjoy it."
The seniors have been enjoying it for a long time, too. Castillo said the program has been going on for 10 years.
Unfortunately for the pre-school students, not everyone gets to help with the decorations. With 66 students, Castillo said it just wouldn't be possible to get everyone involved.
"It would be very difficult," he said.
Franks said she was chosen by her teacher to help decorate because she was being good.
Jan Epps, who helped decorate the tree, said she thinks the program helps teach students important lessons.
"This brings joy to everyone's lives because you're teaching them not only to receive, but also to give," Epps said.
She also said many students look forward to doing the project because they've had older siblings go through the classes in the past.
"Each child that comes up; they know that they're going to do it eventually," Epps said.
Castillo said it's also a good way to get students out of the ordinary routine of doing school work.
"Oh, they love it," Castillo said. "We put Christmas music on in the room."
The tree can be seen Friday night at the Festival of Trees at the Sunnyside Mini-Mall beginning at 6:30. Admission to the event is $15.