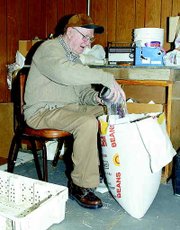 Three hours a day, three times a week . . . regular as clockwork, Dr. Gerald Dierdorff, a long time Sunnyside physician now retired, settles into a little cubicle at the Sunnyside Food Bank amid gunny sacks full of rice and beans.
His job, he said, is to re-package them for distribution to individuals.
"And my pay is one cup of coffee per morning," the good doctor said with a smile.
Dierdorff, retired and widowed now, resides at Sun Terrace where, he says, he attends and enjoys the various parties they have there.
"My health is pretty good for 86 years old, and I still sing in the United Methodist Church choir. In fact, choir practice is tonight," Dierdorff said Wednesday.
Asked if he is still in good voice at age 86, Dierdorff said, "That's not for me to say," but then he gave forth with a resounding "Hallelujah" from the Hallelujah Chorus of Handel's Messiah to prove the old boy still has it.
When asked why he is so diligent in putting in a full day's work every week for the Sunnyside Food Bank, Dr. Dierdorff said simply, "It gives me something to do and I like to help others."