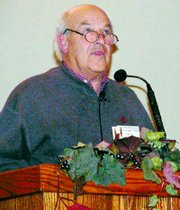 GRANDVIEW - Ice, drought and pests notwithstanding, growth in the state's wine and Concord grape industry has been nothing short of a success story.
That was keynote speaker Jack Watson's assessment Thursday of WSU's 25-year partnership with the state's grape industry, including Lower Valley grape farmers.
"Would growth have happened in the state's grape industry without WSU's partnership? Probably, but not to the same extent," said Watson, who is retiring this year from WSU's viticulture extension program.
Watson's comments came Thursday during the Washington State Grape Society's annual meeting and trade show at Grandview's Church of the Nazarene.
The presentation included a review of the past 25 years. Watson touched on state grape milestones, such as 1983 when the pesticide Endrin caused extensive cattle kills.
"What do cattle have to do with growing grapes?" Watson quizzed the audience. "Because the situation with Endrin initiated the movement against pesticides." That, in turn, has resulted in fewer and fewer pesticides available to grape growers.
A positive result of the pesticide bans, added Watson, was the move toward organic grape farming in the 1990's.
A CBS "60 Minutes" report in 1990 also made waves across the state's grape industry, according to Watson. Dubbed the "French Paradox," the report was the first to detail the connection between longer life spans and the consumption of red wine.
Later, a report showing the same benefits for Concord grape juice provided another push to move from white to red grapes.
No look back would have been complete without a check of the weather. Watson revisited the 1996 winter storms which produced five days of sub-zero temperatures ranging from minus-16 to minus-27.
Though drought has been in the news during the past few years, Watson noted that dry summers for grape farmers are nothing new. He pointed to drought years in 1987 and 1988 as some of the weather extremes grape producers have faced.
In looking back, Watson couldn't but try to look forward with rose-colored glasses and a chuckle.
"In 2010 let's hope the demand (for Washington grapes) will be at an all-time high!" he said.
Closing with a reflective tone, Watson said the 25-year partnership between WSU and the grape industry "has been good for all of us, we've all benefited."