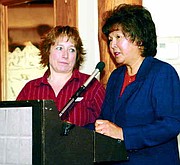 Six months ago, Cheryl Emerson couldn't have known she'd soon be going to college. As she hung in her jail cell, her last breath moments away, she could only think of despair and how messed up her life was.
Department of Corrections officers found Emerson in time and stopped her attempt at suicide. A short time later, she met the woman who would change her life.
"I had heard about Diep and what she does," Emerson told the Sunnyside Nouvella Club at its monthly meeting Thursday afternoon. "She was talking with a group of women about New Beginnings when I said something like, 'you probably don't want someone my age in the program,' and she said back to me, 'you are going to be in my program'."
That's how Emerson met Diep Miller.
Miller is the founder of New Beginnings Community Ranch. This ranch is a non-profit organization that provides a supportive family - home environment for underprivileged women and children seeking an opportunity to gain the skills they need to live successful lives.
The house sits on 10 acres of land in Yakima and can house up to 10 women. They only have three residents right now but are expecting a fourth in a couple of months or so. One of the residents is expecting.
Miller met two of the women at the Yakima County Jail. She preaches there twice a month. It's here Miller met Tanada Child.
Child is a 22-year-old woman who's been to jail 30 times. She's been on the streets since she was 13 and drugs and gangs were a part of her life. She dropped out of school at age 15 and was married by the time she was 16.
"In jail, you get sober," Child said. "When you're sober you realize how horrible your life is. You tell yourself you're going to stay sober when you get out of jail. But when you get out of jail you have no money, no job and no where to go."
No where to go except back to the life they've known.
Child was in jail when she met Miller. She had just found out she was pregnant and knew there was no way she could raise a child. Her plans were to have the baby and give it up for adoption. Her parents even found a couple who wanted to adopt.
Now, after six months of being clean and sober, going through anger management classes, parenting classes and relapse prevention classes, things have drastically changed.
When asked what New Beginnings has done for her, Child replied, "it gave me life. I'm closer to God, I'm away from drugs and gangs, I'm going to go to college, I'm going to learn how to be a good mom."
Miller says she knows how these women feel. "I was in the dark before but I saw the light," she said. "I'm grabbing a flashlight and going back into the dark to show others the way to the light."
When a new resident comes to New Beginnings, they don't leave the ranch for 30 days. During this time they get treatment, get healed, relax and learn the word of God.
The program is very strict. You only have one chance. If the residents run away, they won't be welcomed back. When they go out unescorted, they must submit to urine tests before and after. If they come up dirty, they have to leave.
Residents are encouraged to stay for two to three years. They must stay at least one year. Miller says New Beginnings help women break the cycle that keeps them down. No matter what it is.
"These women need love," she said. "They need someone to acknowledge them. Everyone of them is valuable to God. It's only through God can we help these people."