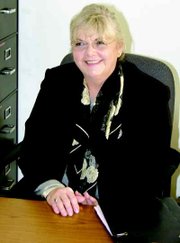 Mary Ann Bonny has lived in the Sunnyside area for 50 years, so it's safe to say, she knows Sunnyside.
That's why the Sunnyside High School and Heritage College graduate applied for the position of Sunnyside Chamber of Commerce Director.
"That's why I asked for this job," she said. "Because I like a challenge."
Bonny was selected from a field of eight potential candidates to fill the position, which has been vacant for two months, Chamber President Ruben Carrera said.
"They were all good candidates," he said. "But we selected the one we felt would meet the needs of Sunnyside."
And she will face some challenges when she officially starts her job on Dec. 1.
Bonny said the job description is three pages long and contains a variety of tasks, including day-to-day tasks, such as evaluating personnel, and more extensive tasks, such as creating a successful campaign to attract people and businesses to Sunnyside.
"I will rely on the knowledge of a lot of people," she said of taking on those tasks.
Bonny does have a lot of business experience.
She, and her husband Roland, owned and operated Bonny's Air Service at the Sunnyside Airport for 20 years.
"I've done a lot of things in the past like this," Bonny said.
She said one of her goals as director will be to help create unity between elected officials at city hall and the chamber.
That will also likely be one of her biggest challenges, she said.
She said she's a team player, though, and will work with the chamber board of directors to accomplish the goals they set out to accomplish. The way they'll proceed, she said, is "as a team, to see what we can do."
Bonny said she likes to organize and be behind the scenes, but she said she's also comfortable being in front of a group of people.
In her spare time, Bonny said she likes to do a variety of things, and those things have helped her create relationships with members of the community.
She's a member of St. Joseph Catholic Church and attends Blessed Sacrament Catholic Church in Grandview. She also belongs to the Sheep to Shuttle Guild, which spins, knits and weaves, she said.
Those things have helped her create a large network of friends in the area, and that will help with the job.
She also has five grown children, three of whom live in the Sunnyside area, and 13 grandchildren.
But, Bonny said she wants what any director would.
"I want to see growth and success," she said.
Carrera agrees. He said he's looking forward to working with Bonny.
"We're looking forward to the director that we need," Carrera said. "We just need to get going again."