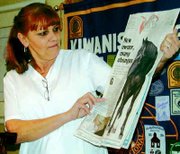 Sue Hook, who owns the Sunny Spot restaurant with husband Gary, spoke to the Sunnyside Kiwanians Wednesday morning regarding the thoroughbred horses they raise.
Named Hook Stables, the farm's objective is to produce "a really good horse to represent Sunnyside," she said.
A native of Canada, Hook said she is at home in the Lower Valley and enjoys the friendliness and hard work she sees in her restaurant customers.
The Hooks have more than 30 horses in their stable, including some from the line of Seattle Slew. Unlike thoroughbreds which are run at the Kentucky Derby and other Triple Derby venues, horses in the Hook Stable do not hit the track until they are three-years-old.
Noting the horses aren't fully matured until they are five, Hook said running them at age two is too young. "They hurt so many horses that way, they push them too hard," she said.
The Kiwanis appearance was also an opportunity for Hook to discuss the stable's new stud, Heavenly Search.
Ultimately, training thoroughbreds is a labor of love, explained Hook.
In addition to the expense of feeding the horses-thoroughbreds require a special diet and vitamins-there is always the risk of injury.
"It's a matter of luck," Hook said. "A horse could get injured when it's young or it could get injured later when it's running."
She continued, "There's not a lot of money in it, but a lot of love."