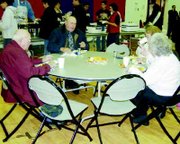 About 800 people from the Lower Valley attended a dinner for the less fortunate at the Sunnyside Community Center Sunday afternoon.
The dinner featured a variety of traditional Thanksgiving dinner items such as turkey, mashed potatoes and gravy, but also featured some Mexican food.
Frank Allec, a spokesman for Moon Broadcasting, which helped sponsor the event, said the variety of foods served was done so to make everyone feel welcome.
"We don't want to alienate any culture," he said.
The food came from a different number of groups and businesses within the Lower Valley, Allec said.
Businesses from Grandview to Toppenish donated to the dinner, he said.
Those businesses that didn't donate specific food items donated other things, Allec said.
"Other businesses donate in other ways," he said.
Members of Sunnyside High School's leadership class, cheerleaders, the Miss Cinco de Mayo royal court, Readiness to Learn case workers, Sunnyside's Promise and Sunnyside Police Chief Ed Radder helped serve food at the event, according to Readiness to Learn Case Manager Suzi Carpino.
"It's just a lot of donating of efforts," Carpino said.
Allec said this was the second year the event has been held at the community center, which he said bends over backwards to help put the event on.
Those in attendance also enjoyed live music and the company of those there.
"It's a Valley-wide effort," Allec said.