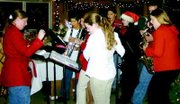 With members of the Sunnyside High School band playing Christmas songs, dozens of decorated trees and dozens of donated gifts to be opened, Friday's Festival of Trees was sure to get even Scrooge ready for Christmas.
"I think it's a good thing to have this to get people into the Christmas spirit," said Loussa Brown, 89, who is a lifelong Sunnyside resident.
Brown said she's been coming to the festival for a long time, but couldn't remember exactly how many years it has been.
Those who packed the Sunnyside Mini Mall were treated to the sight of 27 trees, whose decorators spent as much as a week adding the finishing touches to their vision of a perfect tree.
It was all for a good cause, too. Money raised by the event will go to benefit the Sunnyside Community Hospital Auxiliary, according to Auxiliary President Yolle Widdows-Guizar.
Widdows-Guizar said just by selling the decorated trees, the auxiliary will raise $6,500 to help buy medical equipment for the hospital and to give as scholarship money for people planning to go into the medical field.
Widdows-Guizar said the number of trees sold and the number of people in attendance are important to her.
"To me, that means there's a lot of community support," she said.
The festival, she said, allows people to get into the holiday spirit by letting people socialize while eating and enjoying the trees.
"That's why I say we're the instigators of Christmas in Sunnyside," Widdows-Guizar said.
Hot food for the event was provided by the hospital cafe, she said, while cold food and dessert was provided by hospital employees who donated it to the event.
Wine samples were also provided by local wineries.
Widdows-Guizar said usually those in attendance are allowed to vote for their favorite tree, but because it was the auxiliary's 10th year doing the event, she said they decided to give everyone who participated a certificate and poinsettia.
"We decided because it was our 10th year, we wanted to reward everyone," she said.