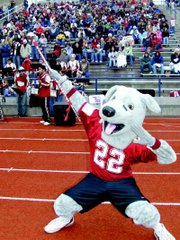 PASCO - Grandview's football team had Connell-undefeated and fourth-ranked-on its heels for a half before the Eagles stomped out the Greyhounds' hopes in a 56-21 state quarterfinal win Saturday.
In what can only be termed the longest 18 minutes in Grandview football history, the 'Hounds saw a 14-13 lead morph into a lopsided loss to Connell in Saturday's 2A state quarterfinals.
The Eagles easily handled Grandview during the CWAC South regular season. But Saturday's contest was the second season, a win-or-go-home battle to reach the semifinals.
Connell began the game in a fog, much like that shrouding Pasco's Edgar Brown Stadium.
Grandview had something to do with that, catching the Eagles off guard with a successful on-side kick to start the contest, then finding paydirt on a 12-yard halfback pass from James Vela to J.R. Camacho.
"We knew they were going to be keying on James so we wanted to mix it up," Grandview Coach Dustin Lamb said of the trick play in which Vela drew a crowd of Connell defenders, leaving Camacho wide open for the touchdown catch.
The Greyhounds' 6-0 lead was short-lived, though, as Connell answered with a score and extra point kick to make it a 7-6 contest.
Grandview, which scored a total of 14 points in a regular season loss to Connell, made it 14 points in just the first quarter Saturday on Brandon Artz's 58-yard bomb to Kevin Concienne, followed by a two-point conversion.
Connell answered with a score early in the second quarter, but missed the extra point as Grandview clung to a 14-13 lead.
Even a fumble in Grandview territory couldn't help the Eagles regain control, as Connell resorted to a 51-yard field goal attempt with 8:21 to play in the half.
The kick fell short but Grandview went three-and-out on its next series and a short punt again gave the Eagles good field position.
That's when fate intervened, putting Connell in control for good.
Working at mid-field, Eagle quarterback Brett Clyde-on his way to 13-of-16 passing for 302 yards-threw the ball up for grabs and Grandview's Matt Concienne got a hand on the ball only to tip it to an Eagle receiver for a touchdown.
Connell had the lead at 21-14 with two minutes to play in the half, but Grandview still had plenty of fire in the belly.
Starting from the Grandview-18, quarterback Brandon Artz marched the 'Hounds on a crisp two-minute drill worthy of John Elway in his prime.
Connecting on four-of-six passes for 67 yards on the drive, Artz had Grandview in business on the Connell-15 with 50 seconds to play in the first half.
Primed for a game-tying score just before half-time, Artz lofted the ball toward the right sideline near the five-yard line.
Though Grandview's receiver was momentarily open, Connell's Spencer Hadley somehow climbed the ladder to snag the interception and snatch away the Greyhounds' hopes.
But Hadley, who caught seven passes for 204 yards, was just getting started.
After a 10-yard run to its own 15, Connell called time-out for a final last-second play. The Eagles' Hail Mary landed in Hadley's waiting arms, who then split two Greyhound defenders on the way to an 85-yard touchdown catch.
Trailing 28-14 to open the second half, instead of potentially tying the game at 21-21, any hope Grandview had quickly evaporated on the first play of the half.
An Artz pass was deflected near the Greyhound-20 and intercepted by Connell lineman Eric Schultz, who rumbled in for the back-breaking score.
Up 35-14, Connell was just getting warmed up.
The Eagles soared for 28 points in the third quarter alone and, combined with the 15 they scored in the last six minutes of the second, represented a 43-point binge in a matter of just 18 minutes.
"We gave it all we could but their size finally got to us," Lamb said of the larger Eagles.
Even with the Greyhound strategy of putting more defensive players on the line, Connell found a way to break through and both harass Artz and slow down Grandview's running attack.
Vela, averaging more than six yards per carry entering the contest, was held to 19 yards on 11 carries.
With Vela drawing Connell's attention, Grandview's run offense found some success with Cheeto Valencia, who gained 42 yards on 11 carries, nearly twice as many as the junior gained during the entire regular season.
"It's been a great ride," Artz said after Saturday's game. "Getting to the quarterfinals was part of the goal but not all of it." As far as the quick start against a stunned Connell, Artz, for one, wasn't surprised. "We came out feeling like we could play with them and we did."
Lamb said the quarterfinals represented a turning point in the Grandview football program, especially considering the team was fourth in the CWAC South and one of just two teams from the league to reach the quarterfinals. The 'Hounds ended the 2005 campaign with an overall record of 7-5.
"We want the guys to feel like they belong here and we accomplished that this season," Lamb said. "Now we just have to build on what the seniors have done the last two years and keep it going."
Statistics:
Passing - Artz 21-40-289, one touchdown, two interceptions. Vela 1-1-12, one touchdown.
Rushing - Valencia 11-42, Vela 11-19, Camacho 8-32, Peterson 1-7, Artz 5-4, one touchdown.
Receiving - Vela 6-66, Poteet 3-62, Valencia 2-32, K. Concienne 5-93, one touchdown, Camacho, 2-12, one touchdown.