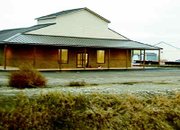 A fixture on Sunnyside's 16th Street for more than 25 years, Walco Animal Health will move by the end of this year to a new building on South First Street.
Besides larger loading and unloading areas, Walco's new merchandise display will grow ten-fold, from 500 square-feet to 5,000 square-feet on South First.
"We had been looking for a larger building for some time," said Kevin Fennell, Division Manager for Walco. He noted the company even looked at the former K-Mart store.
"It's just hard to find anything large enough and at the right price in that part of town," Fennell said of Sunnyside's Yakima Valley Highway corridor.
Texas-based Walco specializes in specialty feed and vitamins for cattle. The Sunnyside store deals primarily in vitamins, minerals and vaccines for cattle and other livestock.
Receiving freight truck deliveries at the 16th Street location became increasingly cumbersome, particularly with increased traffic.
That's when an answer entered the picture in the form of John Eakin and Karl Vandemere, a Walco customer.
The conversation resulted in Vandemere building a 20,000 square foot building for Walco at South First, across from Bi-Mart. Local workers were hired to build Walco's new home.
"We didn't want it to look like a warehouse," said Fennell. "We wanted to fit in, to have more of a farm store look."
Speaking of a farm store, Walco plans to offer more retail goods in its new room to grow, including western apparel and boots.
Relocating to the South First Street area isn't without risks, added Fennell, given the growing business district on Yakima Valley Highway and the fact many of Walco's customer base would be farther away.
But the benefits make it a win, he said, "Since we'll be right on the freeway it gives us an opportunity to serve Prosser and Zillah."
Walco is also ahead of the curve, given the improvements made to nearby Midvale Road and upgrades planned for South First which could make the area increasingly attractive for business.
"We're excited about getting started in the new building and expanding," Fennell observed. "We're just trying to be a positive part of the community."
The new start for Walco begins in late December when the company moves to the South First Street location, which will offer expanded hours to include Saturday. Walco is already looking to hire one additional employee and will bring on more help as the retail store grows.
A grand opening and open house will be scheduled at a later date.