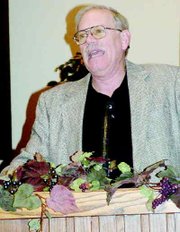 GRANDVIEW - The "state of the station" is fine thank you, according to Dr. Robert Stevens, Superintendent of WSU's Irrigated Agriculture Research and Extension Center (IAREC) in Prosser.
Stevens' comments came last Friday at the annual state grape society meeting in Grandview. WSU's Prosser center was established in 1919, and is beginning the 21st century in good form with support from the state legislature and WSU.
The Prosser agriculture center is in the midst of a $2 million building expansion program, Stevens told the audience.
With a $1.5 million state grant and a $500,000 WSU match in hand, the center will see construction of a 102x206 building to house an instrumentation lab, classrooms and a 30x70 greenhouse.
In other improvements over the past year, the Prosser station has an upgraded weather network, a re-roof of Hamilton Hall and a domestic water upgrade.
The update on continued work at the Prosser station is of interest to the state's grape industry because it contains a viticulture center for grape research on issues such as pests and viruses.
Stevens closed his brief remarks by encouraging the public to "thank a legislator" for the progress at Prosser. "Be sure to let them know we need their continued support as well," he added.