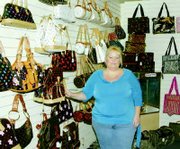 Sunnyside residents will now be able to find the latest Hollywood fashions. In Style Hollywood Fashions just opened in the Mid Valley Mall.
Janice Welch, a 1986 Sunnyside High School graduate, opened her store so she could supplement her income.
Welch was a stay at home mom for years before she went and got her beauty license. She was a stylist for a while when she decided she would like to help people with special needs.
As a trainer for Horizon, a sheltered workshop for people with disabilities, she met a co-worker whose assisted living home was closing down. She took him into her home and quit her job to take care of him.
The man moved into her home in Mabton with her and her husband. The man pays for room and board and the state pays her an hourly wage so she can take care of him.
"It's been a struggle but it's worth it," Welch said.
She wanted to get a job where she could take off immediately if she needed to go and take care of the man she helps. Welch decided to open a kiosk, selling purses, in the mall for the holiday season. She figured doing this would give her a flexible schedule.
Problem was, interest was so high in her idea she got too big too fast so she decided to just open up her own store.
That's when In Style Hollywood Fashions opened up. Welch found through research there was only a few stores in the Yakima/Tri-City area and she thought one more couldn't hurt. "I thought the demand was high enough for one more," she said.
She set her prices comparable to the other stores and away she went. There are purses, sun glasses and men's watches for sale at her store. She keeps up with what's in style and what Hollywood is wearing. She keeps the prices down by offering replicas.
Some of the replicas she sells are from the lines of Louis Vuitton, Gucci, Prada, Brighton, Dooney and Chanel. She dares you to compare.
Welch does carry some original lines such as Betty Boop, FUBU and Marilyn Monroe.
In Style Hollywood Fashions is open Monday through Sunday during mall hours. So far, Welch is very happy with the way things are going.
"I really had a good response," she said. "I'm doing better and better every day.