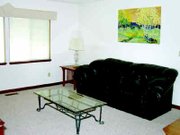 In bowling it's 300, in baseball it's retiring 27 straight batters, but for the Best Western chain of hotels 1,000 is a perfect score.
And Sunnyside's Best Western Grapevine Inn has reached perfection-twice.
The Sunnyside Best Western received its second consecutive perfect score award and "Best of the Best" recognition during the hotel chain's North American convention held Nov. 15 in Phoenix, Ari.
"It's all about team," said Dick Marchel, Grapevine General Manager. "Without our employees we couldn't have accomplished any of this." Marchel figures there are only three or four Best Westerns worldwide who have received similar recognition this year.
Based on quality assurance scores received via on-the-spot inspections without notice, Sunnyside was rated the top Best Western in the northwest for friendliness and service.
The western region encompasses a total of 405 hotels in Oregon, Idaho, Washington, Montana, North Dakota, South Dakota, Alaska and the Canadian provinces of British Columbia, Saskatchewan and Alberta.
"That includes big cities like Seattle and Portland," said Marchel. "So for us in a little town to be named the best of all of them says a lot for Sunnyside."
Marchel noted it also says a lot for the Sunnyside housekeeping and maintenance crews, who keep the rooms immaculate, and the front desk customer service employees, who make guests feel welcome.
"The Best of the Best awards were created to recognize those Best Western hotels that truly set the standards for the brand," said Larry McRae, chairman of Best Western's Board of Directors. "The Best Western Grapevine has captured the essence of this dedication to quality by demonstrating a commitment to the customer."
Located at 1849 Quail Lane, the Best Western Grapevine Inn opened in August 2004 and features 54 rooms and amenities. The hotel derives its name from neighboring grape arbors.
Customer-service amenities include high-speed Internet, an ice cream machine, spa, swimming and an exercise room. The inn's breakfast ranges from biscuits and gravy to bagels and waffles.
Marchel also credited owner Tom Denlea's commitment to the hotel, "He takes the profit from the hotel and puts it right back into the business."
Scripture murals and plaques depict Christian beliefs and ethics at the Best Western Grapevine, which Marchel said only help with the hotel's clean and friendly service.
And, once again, he said it all comes down to the Grapevine's employees.
"They make us all look good," he said. "You're only as good as the people you have working for you."