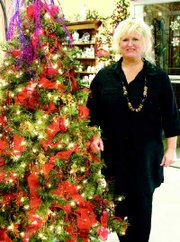 Beki Anderson, a small-town girl from Mabton, has traveled through life with a cosmopolitan air. She owes even her nickname to the world traveling she did in her early years.
As a college exchange student spending a year in Japan to study art at the University of Tokyo, her host family quickly drew her into their circle and turned Rebecca into Beki-in more than just name.
"I did a quick tour through Europe-Amsterdam, Prado, Madrid, France-with the Japanese family," said Anderson, who has maintained close ties with them through the years. Once a year, the son of the family, who was a pre-teen when Anderson lived with them, comes to the states to visit her and her family.
"And I went to Japan in 1993 for his wedding," she said.
On that European tour Anderson took with the family as a student, she was the guest of the affluent family, but was asked to take a huge suitcase with her. Leaving Japan, it was stuffed with Japanese food. On the return trip, it carried, Anderson said, "Cartier gold, diamonds, leather goods, and I was waved right through customs."
She said a common name for her in Japan was "The Golden Goddess" because, with her blonde hair and at five-foot-eight, she was unique in that culture at that time.
Her appearance bounced her right out of the crowd at the 1972 Olympics in Sappora in northern Japan. "They thought I was with the Olympics, so they sat me right with the players at the opening ceremony," she recalled.
She learned Japanese from watching early morning cartoons. "It was the only thing I understood," she said.
She said she put her knowledge of Japanese into play when she was invited by an American production company to work at the Japanese pavilion at Expo in Spokane.
Although Japan was "very eye-opening" for Anderson, it was not her first sourjourn into the big, wide world.
"I was an 18-year-old from Mabton right out of high school when I went to Spain to study law in Madrid. Here I was, 18 years old and in Madrid. It was pretty nice. All the men were romantic and everything was pink," she said, explaining that Madrid's hallogen lights, which cast a pink glow, were the first she'd ever seen.
"I almost didn't come back!" she said, laughing.
Traveling abroad since those early years has been limited to mostly the U.S. with trips to the south, Hawaii and Dallas, Texas for gift shows that help her in the Hopfengarten Gallery she re-opened in Sunnyside about a year ago.
She said the contacts she has made over the years at gift shows is helping funnel imports into her shop in the Sunnyside Mini-Mall.
Although she doesn't yet have the import range she wants, she said she is getting there, with an eye on goods from Japan, Taiwan, China, Indonesia and Thailand. She already has made some good buys of silver jewelery from Sri Lanka and India.
Beki and her husband of 31 years, Gary, have made a trip together to Japan, on their honeymoon.
Her host family from those years ago were dedicating a building for which Beki had designed the facade, and which the family named for her.
"We went for the dedication of the Rebecca Building," Anderson said. "And now there is a Rosalind Building in Japan the family named after our daughter."
There was a time when Anderson dabbled in the horticulture business, years she now calls "very boring and not creative at all".
She said she finds life more rewarding when she is using her artistic skills and experience gleaned from the era when she pulled six women together into the business still known as Melange.
For three years, the six women-hand-chosen by Anderson as, she said, "the women I thought would be the best to go into business with"-contributed their individual expertise to the shop. Along the way, three dropped out, among them Anderson, who had tied herself up to that full-time horticulture endeavor that became dissatisfying to her.
Now, Anderson has re-opened what was once a family business, in space that once housed the business to which she gave birth. Now, Melange is across the hall and it and Anderson's Hopfengarten Gallery are two strong businesses in Sunnyside, businesses that draw not only local shoppers, but ones from outside the area too.
If it appears Anderson has come full circle, it may be a bit of a deception. This lady, who holds degrees in interior design and fine arts history and has stretched her talents from Mabton to the Orient, isn't the type to put 'paid' to her career yet.
"I'm always thinking of something," she said.
And where those thoughts lead her might be the next chapter in this cosmopolitan's journal.