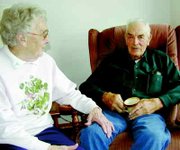 Matty Besteman, who will be marshal at this year's Sunnyside Lighted Farm Implement Parade, shares a dilemma all parade royalty has: what should I wear?
Besteman, at 90 years young, may be the most experienced hand around farm implements, but he hasn't yet decided what to wear for the parade. Fashion or style is not on his mind-something warm, definitely is.
"We went to a lot of these parades and none of them were warm, even when you aren't riding in a wagon," said Besteman, who was told that his ride for the night of Dec. 3 will be an open wagon.
"They promised us a big buffalo robe!" said Besteman's wife, Anne.
Actually Besteman, who will turn 91 on Christmas day, didn't seem too worried about the weather. He's been out in all kinds of it during his years of farming on the outskirts of Sunnyside, on Maple Grove Road.
In fact, up until a year ago, Besteman was irrigating pasture for three or four head of cattle he was raising for family consumption. It was the final farming he put on his record of life, because a little setback has slowed him down.
Before that he grew about every row crop there is, and said his best farming years were when he was growing sugar beets.
"I used to haul them down to the railroad track in Sunnyside. There was a receiving station there. When it closed, I hauled them to other places. Once, for about a year, I hauled them to Outlook and over there," he said, waving a hand off to the west, "and that was a terrible place, but we'd better not talk about that."
Besteman gave up on sugar beets about four years before that market took a dive locally and the sugar factory in Toppenish closed.
He admits to growing "a little mint, but it wasn't good mint, and maybe we don't need to talk about that".
He grew a lot of beef that he will talk about, and raised his own hay that he cut and baled himself, with, in the early years, help from neighbors. It was help he returned. "We all helped each other then," he said, remarking that he has seen a lot of changes in farming over the years, maybe not all of it good.
He grew asparagus, too, and didn't think it hurt the kids who helped cut it. "Now the kids can't even work in the fields until they're 17; that's a mistake," he said, adding a few words about the difficulty of establishing work ethics in young people when they aren't allowed to work.
Working and the ethics that go along with it are ingrained in Besteman, who chose farming alongside his dad over extended education.
"School wasn't so important then. If a kid's dad had work at home, a kid didn't need school," said Anne, who said she ended her own education after the eighth grade.
All five of Matty's children graduated from college, but their education took them away from farm life. "They aren't interested in it," said Matty.
"I was born on Washout Road and lived on Maple Grove almost my whole life," said Besteman, whose parents came from Holland in the late 1880s. The senior Bestemans farmed 20 acres and lived in the comfortable two-story house that Matty still calls home.
"We've done it over and fixed it up three or four times," he noted. He also purchased acreage until he was farming 55 acres of his own right around the house and on other acres he leased.
Anne also has called Maple Grove home for many years. Born in Mabton, she grew up on a farm, and then lived just down the road from Matty.
"I' practically knew him all my life," said Anne.
The Bestemans will celebrate their 25th wedding anniversary in January, having come to their marriage late, after being widowed.
"Our children-he has five and I have four-went to the Sunnyside Christian School together. After he lost his wife, they said they thought I'd make a good wife for him," said Anne, adding, with a twinkle in her eye, "They just didn't know."
There is a window seat in their comfortable living room, and it is from there in the mornings that Matty can look out over his land, that he's leased out now, and beyond to his neighbors to watch farming operations commence.
"I hate it that I can't do much now," he says.
And then he turns his mind back to the coming parade which he will lead as its royal marshal.
"He's wondering what kind of horses they'll have," said Anne, adding, "He's a horseman."
"I always had a couple saddle horses and hauled them up to ride the trails (in the mountains)," said Besteman, who was still riding when he was in his eighties.
"This isn't the first year they've tried to talk me into being marshal," said Besteman. "This time I was having coffee downtown at the Outpost with neighbors and they came over and asked me. They said it loud enough, of course, so everyone could hear. There was no way of getting out of it," he said.
Then he grinned, and said, "I think I'd better do it since I'm almost 91."