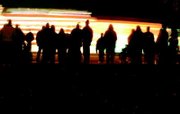 Sunnyside's 17th annual Lighted Farm Implement Parade is important to the community, and even more important to the farming community, Jeff Norem, this year's parade chairman, said.
The parade, which is set for Saturday, Dec. 3, starting at 6:30 p.m., will feature anywhere from 65 to 70 entries, Norem said, in 11 different categories ranging from farm equipment to antique cars, all winding their way through the streets of downtown Sunnyside.
"It creates a sense of pride," said Norem, who has been working on the parade for six years, and is in his second year as parade chairman. "I think it's very important."
That's why Norem said farmers spend so much time putting thousands of lights all over their farm equipment.
In recent years, with downturns in the economy, especially in agriculture, the parade has become especially important to farmers, Norem said.
"It's been tough (for farmers) the past few years," he said.
But farmers still gladly put the time in to decorate their farm equipment. Some even pay their farm employees to spend time decorating for the parade, Norem said.
He said generators are used to power the thousands of lights on the farm equipment.
It's amazing that farmers can get so many lights to light up on their farm equipment when Norem has such a difficult time getting his house decorated, he joked.
The parade has drawn a lot of attention in the past, a trend organizers hope will continue.
Former parade chairman Jim Warren estimates that as many as 25,000 people come for the parade from all over the state.
"It takes a lot of time to get it all together," Warren said.
All the time and effort has paid off with national recognition. The parade has garnered some attention from a national cable television channel and a magazine.
The parade has been featured on the cable channel A&E and recently attracted the attention of People Magazine. The parade was mentioned in the November issue of "People Extra," Norem said, a publication which reaches as many as two million people.
Warren said 75 percent of the funding for the parade comes from private individuals. He said a business has never turned down a request to help with the parade.
And like sponsors, farmers are more than willing to shell out the bucks to run their equipment and generators to power the lights, even with high gas prices because the event is such an important part of local tradition.
Norem said his favorite part is watching the events all come together.
"It's just amazing to me to see all the time and creativity everybody puts in," Norem said.
The parade isn't the only thing to get people in the holiday spirit. A variety of events will be held throughout the day.
Jingle Bell Run
This year will mark the first in what organizers hope will become an annual tradition associated with the Farm Implement Parade.
The Jingle Bell Run, sponsored by the Boy Scouts of America, will follow the parade route exactly, and will feature runners wearing bells and glow sticks, said Frank Villaneuva, district executive for the Boy Scouts Grand Columbia Council.
"Our pack will move a lot faster (than the parade)," he said.
Entry into the run will cost $10 and runners will get a t-shirt just for participating, Villaneuva said.
The run will be open to anyone and winners in given age categories will receive prizes, Villaneuva said, but because of the cold conditions and the dangers of a night street run, he said he's looking more for a certain type of runner.
"I'm looking for people in the hardcore running community," he said.
Villaneuva said he also hopes the run will raise awareness of scouting in the Lower Valley.
For more information on the run or to enter, call Villaneuva at (509) 830-5665 or visit www.hcrunners.org.
Breakfast with Santa
The morning of the parade, kids will be able to eat breakfast with Santa Claus.
The Sunny Spot Restaurant will host a breakfast for kids 12 and under from 8:30 to 10:30.
Sue Hook, Sunny Spot owner, said the cost for the breakfast is $5 for children, but adults can eat too by ordering from the regular menu.
The menu will include a variety of breakfast favorites for the kids, including eggs, sausage, pancakes and other items.
Tickets can be prepurchased for the event, but Hook said no kids will be turned away.
"It's going to be a fun time," Hook said. "I'm really looking forward to it.
Decorate cookies with Mrs. Claus
From 10 to 11:30 a.m., kids of all ages will be able to decorate sugar cookies with Mrs. Claus at Dairy Fair, Manager Tami Silva said.
The event was started last year and Silva said she hopes to expand it this year.
Last year Dairy Fair baked more than 400 cookies and most of them were decorated or eaten, Silva said.
She said there were as many as 24 kids decorating cookies at one time.
This year, she plans to bake well over 400 cookies. All kinds of frosting, sprinkles and candy will be available to decorate the cookies, she said.
"We will make up plenty of cookies," Silva said.
No one will be turned away because they're too old, either.
"It's great, you know," she said. "Everybody is a big kid."
Kiwanis Pancake Feed
A pancake feed will be held at the United Methodist Church at the corner of 9th and Edison.
The feed runs from 4 to 6 p.m. and costs $5 for adults and $3 for children under 12.
The money goes to benefit Kiwanis for a variety of different activities.
Caroling and Storytelling
Just before the Jingle Bell Run and parade, at Centennial Square, the Sunnyside High School Choir will perform Chrirstmas carols and community members will read Christmas stories to help get people into the Christmas spirit, Norem said.
T-shirts will be given out and the downtown Christmas tree will be lit.
"It's kind of cool to watch it go," Norem said of the tree.