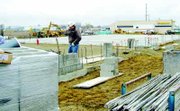 In the month of October 2005, the City of Sunnyside building division issued 81 permits for projects that ranged from new buildings to sewer and water connections with a total valuation of $1,197,249.
Fees for the permits totaled $25,236, with planning fees adding another $2,916 to the city coffers. Permit holders paid a total of $148 in surcharges.
Inspectors made 418 inspections.
The largest building projects underway in Sunnyside in October continue to be the ongoing construction at the mall at the old K-Mart building and the retail building going in adjacent to The Dollar Tree that will house seven businesses, including the largest Pizza Hut in the franchise owned by Don George.
The extensive construction in the mall is being undertaken by Jan Schmalenberg, doing business as Sunnyside Properties and Western Warehousing. Baker Construction of Spokane is building the retail center at the east end of the mall.