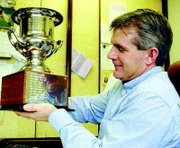 GRANDVIEW - Mike Concienne of Grandview was named the 2005 Walter Clore Award winner by the Washington State Grape Society.
The award was presented to Concienne during the grape society's annual conference in Grandview.
"The award is well deserved," said Craig Bardwell, a co-worker with Concienne and the grape society's out-going president. "Mike is someone who has contributed greatly to the grape industry as a whole."
Concienne is senior regional manager for National Grape Cooperative, overseeing growers who are contracted to provide grapes for Welch's. A WSU grad in horticulture, Concienne is responsible for 325 contracted growers in the state of Washington, which covers just over 15,000 acres of grapes.
"We keep pretty busy," said the quiet Concienne, who was genuinely surprised and humbled by the award.
"Oh, this means a lot for me, especially considering who Dr. Clore is and what he's done for the (grape) industry," said Concienne.
So, who is Dr. Walter Clore?
"He's considered the father of Washington's grape industry," Concienne said of Clore, a WSU researcher. "Our industry wouldn't be here without him."
And, according to Bardwell, the state of the state's current grape industry wouldn't be where it is without Concienne's input.
"Throughout the years, Mike has been instrumental in the industry," noted Bardwell. That involvement includes vice president of the grape society, serving on an advisory panel for the Northwest Center of Small Fruits and six years on the state's Concord grape research council.
"I watch how hard he works for the industry and the growers who belong to the co-op," Bardwell added.
Concienne's commitment to the grape industry, particularly here in Lower County, stems from a firm belief that this area "grows the best Concord grapes in the country."
The latest award winner of the Clore trophy, first given in 1977, Concienne carries on the tradition of holding the cup-shaped trophy for a year.
A sort of Stanley Cup for the grape industry, each winner's name is engraved on the Clore Award and the winner holds the trophy for one year.
"I'm not sure where I'm going to put it but I'll find a place at home for it," Concienne said with a smile.
One thing's for sure, Concienne has already found a place in the heart of the state's grape industry-one grower at a time.