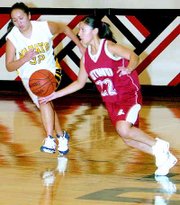 The Grandview High School girls basketball team played Wapato in its first game at last night's girls basketball jamboree, held at Sunnyside High School.
The Grandview JV built a 24-7 lead in the first half.
"We came out with a lot of energy," Grandview Coach Adolofo Hinojosa said. "Wapato couldn't handle our press so we got some easy buckets off of our defense."
Brittany Contreras scored 6 points for the Greyhounds and Jessica Gonzalez added 8 points, going 4-for-4 from the free throw line.
When the varsity team entered play, Hinojosa told his girls to just run their plays and try to look for good shots. They did just that and walked away with a 41-28 win.
Cristina Meza had 6 points for the Grandview varsity and Marisol Hinojosa added 4.
"I think we showed a lot of progress," Coach Hinojosa said. "We're a young team and we need to bring our whole game."
In Grandview's second game of the night, the Greyhounds lost to Sunnyside Christian 46-18.
"Our JV team started out slow and SCHS built a lead on us," said Hinojosa. "When our varsity team came in we found ourselves in a hole. We started off really cold and had less energy than in the first game."
However, Danica Rodriguez showed some intensity during the game, Hinojosa added. "She was pressing on defense and that's where we try to make things happen."
The Greyhounds play their first regulation game of the season at Wapato this Saturday, a non-league affair.