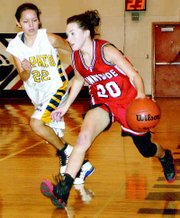 For their first outing of the season, Sunnyside Coach Leo Gomez was pretty happy.
The host Lady Grizzlies beat up on Wapato and Sunnyside Christian at Monday's jamboree, defeating the Wolfpack 37-23 and the Lady Knights 43-21.
The jamboree format, which split the teams into A and B squads of seven players each, combined the score of both teams against each other to determine the winning team.
"I thought we did a pretty good job," Gomez said.
He said his players all looked a little tight, but that's to be expected in the team's first outing.
Freshman Molly Dolan led the way for the Grizzlies against Wapato, dropping in nine points.
"She had a pretty good game," Gomez said.
Junior guard Vanessa Torbay added six points, and sophomore Kayla Rollinger and freshman Katie Wutzke each added three points in the victory.
Against Sunnyside Christian, Torbay and senior forward Fatima Ruelas each had six points to lead the way for the Lady Grizzlies.
Gomez said he thought his team improved against Sunnyside Christian over its tight performance in its first game against Wapato.
He said the play of all of his players bodes well for the regular season. He said his team was picked to finish fifth or sixth in the Mid-Valley League, but hopes last night will be the beginning of a good run this year.
"If we play the way we did last night, we're going to surprise a lot of people," Gomez said this morning.
Sunnyside was without two seniors, guard Jessica Pacheco and center Talia Spini. Gomez said the two will be available for Friday night's game against Ephrata.