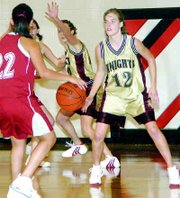 The Lady Knights started their basketball season last night at the girls basketball jamboree at Sunnyside High School.
Sunnyside Christian High School played Grandview in the first game. The JV played the first two quarters and raced out to a 19-4 lead.
"Erika Den Hoed played very will," Al Smeenk, coach for the Lady Knights, said. "She had 8 points and did a great job on defense."
Melanie Van Wingerden added 7 points in the first half. "She does a great job of posting up for the low block," Smeenk said. "She had a couple of steals and was able to convert them into full-court lay-ups."
Van Wingerden led the JV team with 6 rebounds.
When the varsity came on the floor they continued where the JV left off, outscoring Grandview 27-14 in the second half to beat the Greyhounds 46-18.
Tori Van Wingerden and Chelsey Jones each had 6 points and Emma Newhouse added 8 points.
"They played very well and all the girls contributed," Smeenk said. "I thought we did a good job of running the floor. Our girls were pumped up and ready to go."
The second game was a little different as the Lady Knights took on the Sunnyside Grizzlies. No stats were kept for this game but Sunnyside Christian lost 43-21.
"I thought we looked a little sluggish," Smeenk added. "Sunnyside has got some good athletes."
Sunnyside Christian plays next at home this Friday against Liberty Christian in a non-league game.