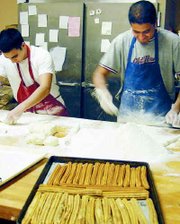 As a young boy in Mexico, Jose Cortez put a canastos on his head and rode his bicycle through Puruandiro selling the baked goods his father made. Cortez, one of 12 children, was just taking his place in a family of bakers.
Now, he has brought to the valley the baking skills he learned at his father's knee. And a toy replica of the canastos sits on the counter of Pepe's Bakery in Sunnyside as a reminder of his origins.
A canastos is a broad-brimmed basket that can hold a wide variety of goods, but it has an indentation so it can be worn on the head . . . leaving hands free to propel a bicycle on a boy's bakery route. Although it does fit a head, it still takes some balancing skills to keep the basket and its load upright.
The days of the balancing act are over for Cortez, who can be found these days baking fresh goods seven days a week at the bakery he and his wife, Anna Gutierrez, opened on the last day of April 2005.
Pepe's Bakery, located on East Decatur Avenue just two doors down from Cactus Juice Cafe, has no ties to the bakery that was in that location five months before Gutierrez and Cortez opened their shop. The Granger couple are starting out fresh, with help from Cortez' brother, Manual, another baker in the family, and Antonio Morfin of Yakima.
Cortez' specialty is elaborately decorated cakes for almost any celebration, in addition to traditional baked goods like conchas (shells), Ojo de Buey (Bull's Eye, which is two crescents filled with strawberry and topped with coconut and strawberry) and bolillo, which are the soft bread rolls with a crunchy crust that make a tomato and avocado sandwich something to remember.
Gutierrez said their best-selling item is pumpkin empanadas and customers appreciate their pastele tres leches (a porous cake soaked in three different kinds of milk), made from their own secret recipe.
Gutierrez' sister, Veronica Estrada, also helps tend the bakery, which is open from 7:30 a.m. to 9 p.m. every day.
"Saturday, we do try to close at 8, but, if there are cars lined up, we'll stay open," said Gutierrez, who works full-time teaching in the Contract Learning program of Sunnyside High School.
She said they did close on the 4th of July, anticipating that "everyone would be out of town" on that holiday. They also closed half a day on Thanksgiving and are scheduling full holidays on Christmas and New Year's Day.
The couple, who lives in Granger, have two children.