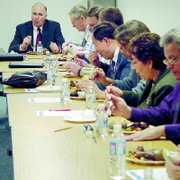 The Washington Assessment of Student Learning was the topic on most educators' minds Monday night as state Senator Jim Honeyford, and state Representatives Bruce Chandler and Dan Newhouse were in town for the Lower Valley School Board's Legislative Dinner.
Several administrators from Lower Valley school districts, including Granger, Mabton, Zillah and Toppenish, were on hand to speak with the trio of legislators, who shared their insights as to what to expect in terms of future legislative decisions.
Sunnyside Superintendent Rick Cole was one of many educators who expressed frustration with the WASL.
"We've set up a process where we know kids are going to fail," he said. "We know even before they take the test they're going to fail because of their limited English skills."
Cole, along with other administrators, said they'd like to see other ways for students to show they've learned material and are ready to graduate.
"I'd really like some alternatives to the WASL," said Tim Dunn, Granger Superintendent.
One of those alternatives is the test currently being used in Idaho.
The Measures of Academic Progress test, or MAP, meets the requirements of No Child Left Behind and state standards, Dunn said.
Dunn said the test has a 90 to 95 percent correlation to the WASL.
In addition, Dunn said the results can be obtained in just 48 hours, whereas WASL results take months to get.
It also allows students who don't have a good command of English to take the test and prove they understand the material being taught in school.
Cole emphasized that making alternatives available doesn't mean standards have to be lowered.
"We don't want any diminution from high standards," Cole said. "I think it's a big issue for all of us."
Other alternatives include allowing students to complete summer school, which would serve as a substitute for the WASL, or allowing students to create a portfolio of work, showing what they've accomplished in their high school careers.
Chandler said one of the biggest worries for current members of the legislature is that a large number of students will fail the WASL.
"We know that two-thirds of the parents in this state don't believe that their kids are ready to go to college or get a job," Chandler said.
However, he maintained that once scores begin to count towards a student's graduation, the state will see an overall improvement in scores.
Cole, however, said the pressure of scores counting would not change the fact that large numbers of students, especially those who don't speak English as their first language, won't be able to pass the test.
"We need more time," he said.
Health benefits, and transportation and fuel costs were also briefly touched on.
Honeyford said the legislature's $1.4 billion budget surplus will help to eliminate any worries about transportation and fuel costs.
The future of health benefits for teachers, however, isn't quite as certain.
"Health care benefits would mean a lot to our teachers," Cole said.