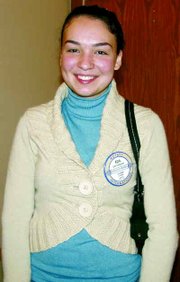 Telling the Sunnyside Rotarians, who are hosting her exchange student year in the United States, that she likes to draw, Eda Calguner displayed an especially poignant picture she had drawn of an adult female.
While not naming the subjects in her drawings, Calguner's personal artwork was part of a PowerPoint presentation she made Monday at the noon luncheon of Rotary.
Along with beautiful scenes of a land that rises from sea level to rugged mountain peaks, Calguner flooded the Rotarians with facts about her homeland.
She told them Turkey is a Republican parliamentary democracy, based on a secular, democratic and parliamentary system in which rights and obligations are protected by law. She said, while the majority of Turkey's 70 million inhabitants are Muslim, the secular state "guarantees complete freedom of worship to non-Muslims in Turkey", adding that "mosques, churches and synagogues have co-existed peacefully for centuries".
The daughter of a college professor and a lawyer who resides in their nation's capital of Ankara, Calguner, who is 17, said she wanted to be an exchange student "to learn about a different culture, traditions, language, religion and lifestyles".
In exchange, she was sharing the same about her country Monday.
She said her nation is governed by a council of ministers led by a prime minister. "And the Grand National Assembly is elected by popular vote," she said, adding that "Turkey is a founding member of NATO. . . member of the Black Sea Economic Cooperation Organization and the European Council. Currently Turkey is a candidate for European Union membership."
She also pointed out that Turkey is only slightly larger than Texas, but its city of Istanbul "is the only city in the world located on two continents, Europe and Asia", which gives Turkey the distinction of being considered "the bridge between east and west".
"Because of its strategic location at the juncture of Europe and Asia, Turkey controls the entrance to the Black Sea (to the north of Turkey)," she noted.
Calguner gave a myriad of details about Turkey, known as "the cradle of civilization", which has been home to Hittites and Romans, emerging from an empire to the modern Republic of Turkey in 1923. One of its most ancient sites is Ephesus, a familiar city in the Bible and one that is being unearthed in ongoing excavations today.
She spoke of a religious holiday, Ramazan Holiday (Candy Holiday), which occurs after a month of fasting in October, but ends with the eating of chocolates and candies and visiting relatives, especially the elderly. During Kurban Bayrani, another religious holiday, an animal is sacrificed, usually a lamb, and the meat distributed to poor people.
Turkey has five national holidays in addition to these two religious holidays, Calguner said.
In fielding a question from a Rotarian Monday who wanted to know how the Turkish people view America, Calguner cautiously separated "politics" from "the people", and proclaimed, with an infectious grin, "I don't know about the politics, but the general people-we like Americans, and we like America."
Calguner arrived in Sunnyside in August 2005, and will probably return home in June or July when school is dismissed; she is a senior at Sunnyside High School. She will divide her year between two host families in Sunnyside. Her first family is Brian and Kari Bliesner and their two sons, who will send her on to her second family, Jeff and Erika Barrom, after Christmas.