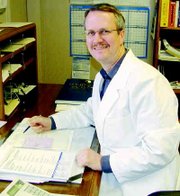 GRANDVIEW - Praised for making Grandview "a better place to live," Dr. Albert Fiedler was named the city's "Man of the Year" in a chamber of commerce sponsored event earlier this month.
Fiedler not only made Grandview a better place in 2005, as he traveled to Louisiana in September to help in the wake of Hurricane Katrina.
Expecting to help with debris removal, Fiedler packed his doctor's bag at the last moment, just in case there was a need.
Boy, was there.
A doctor leading a makeshift post-hurricane clinic in Slidell, Louisiana was suddenly called away the day after Fiedler arrived.
When word got around of Fiedler's medical expertise, the Grandview doctor went from general handyman to clinic director in a heartbeat.
"We saw about 150 patients a day," Fiedler said of the 12-hour days he and the nurses and assistants put in to aid hurricane victims.
Treatment ranged from administering inoculations to treating major lacerations as residents attempted to dig out from the storm surge.
The days were long and working conditions primitive, at best, but Fiedler was on cloud nine.
"I felt like I was able to make a difference," he said of serving in Louisiana, which he termed a calling from God. "I just felt a tug at my heart for those people. They would get this look in their eyes and break down when they realized they had lost everything."
Even now, more than two months later, Fiedler said he still hasn't come down from his "mountain top" experience.
When the stunned doctor picked up his award for "Man of the Year" he didn't miss a beat. Foregoing speech making, he made an offer.
"He said he had this video from the experience in Louisiana that he wants to share with people," said Lynda Jo Gross, Grandview Chamber of Commerce Manager. "That's the kind of man he is. It's just mind boggling what the people in Louisiana went through and he still gets choked up about it."
In selecting Fiedler as the "Man of the Year," the chamber said he is "committed to bettering the lives of others. He has a way of quietly, positively influencing and inspiring others."
The chamber added, "If this were still called the Sunshine Award, that would be the best way to describe Dr. Al Fiedler."
In 2006 that "sunshine" will again reach from Grandview as Fiedler joins a group serving a tsunami relief center in Sri Lanka.
And Louisiana is calling, once again.
"They'd like me to come back in December to head the clinic," Fiedler said.